THE NEW DIPLOMAT's ELECTION MONITOR
Where things stand
(As at 05:00 PM Nigerian Time)
After 649 seats of the 650 seats have been declared, here are the parties and number of seats they have claimed officially:
Conservative 318
Labour 261
Scottish National Party 35
Liberal Democrats 12
Democratic Unionist Party 10
Others 13
What You Must Know: 
NOTE: To win a General Election outrightly and be able to form a majority government, a political party must win at least 326 seats in the House of Commons – more than half of all the constituencies in the UK. If every party falls short, it is known as a hung parliament.
Meanwhile, If there's a hung parliament, the previous government may remain in power during a period of negotiation as they look to form a coalition with smaller parties. If they are unable to win enough support to form a coalition government but won the most seats in the election, they may try to govern as a minority government.
If the incumbent party cannot command a majority or form a coalition, they could resign from government – paving way for the leader of the largest opposition party to try to form a government.
Pound drops
When the general election exit poll was revealed at 10pm last night, the pound immediately dropped by 2% as investors took a position that a hung parliament was a possible outcome of the general election.
(12:10) May Seeks Permission from Queen Elizabeth II to Strike Deal with Minority Party
After failing to get the 326 parliament seats required to get an outright win over fellow candidate, Jeremy Corbyn,  British Prime Minister Theresa May is seeking to form a new government by turning to the Democratic Unionist Party of Northern Ireland to give her the number of seats required, but she need the Queen's permission as the UK President, though ceremonial as they call it.
NOTE: The Democratic Unionist Party (DUP) had garnered 10 seats and May believes an aggregation of that with her Conservatives' 318 seats will give her 328 seats more than enough to form a new government with a minority party.
May will visit Queen Elizabeth II shortly to seek permission from the monarch, after her Conservative Party suffered huge losses in the country's general election.
(1:30) May To form Government with DUP support:
Speaking after visiting Buckingham Palace, she said only her party could form a "legitimate" administration after winning the most seats and votes.
She said she would work with "friends and allies" in the DUP to take forward Brexit, saying "let's get to work".
The Conservatives are 8 seats short of the 326 needed to command a majority.
Labour's Jeremy Corbyn has urged her to quit, saying he is "ready to serve", while Liberal Democratic party leader, Tim Farron said she "should be ashamed" and should resign "if she has an ounce of self respect".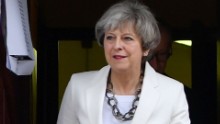 Despite Outcome Sanders Congratulates Corbyn
US Senator Bernie Sanders, former Democratic presidential candidate has said, he was thrilled at Corbyn's achievement in the election.
I am delighted to see Labour do so well. All over the world people are rising up against austerity and massive levels of income and wealth inequality.
"People in the UK, the US and elsewhere want governments that represent all the people, not just the 1%. I congratulate Jeremy Corbyn for running a very positive and effective campaign."
 STAY HERE: We Break It Down
… Follow all live updates, development and breaking news here…
Subscribe to Our VIP Newsletter