(CNN)The families of death row prisoners who are expected to be executed within the next 24 hours by Indonesian firing squad made their final visit to the island where they're being held.
Twelve ambulances, with a least one seen to be carrying an empty casket, also arrived at the port of Cilacap, the departure point for Nusa Kambangan island, off the south coast of Java.
The Indonesian government has not confirmed the timing of the executions, but lawyers say the signs are pointing to the firing squad being given their orders shortly after midnight Tuesday.
It's a day their families and friends hoped would never come, but it's also one that Indonesia, despite years of protest and legal appeals, has insisted has to happen.
Nine to face firing squad
Nine prisoners — including eight foreigners — are expected to be led to an isolated area. Under Indonesian law, the death penalty is carried out by a 12-man firing squad, although only three guns are loaded with live ammunition.
Prisoners are given the choice of whether to stand or sit, and whether they want to wear a blindfold, hood or nothing. The shots — aimed at the heart — are fired from between five and 10 meters, according to Amnesty International.
Among the prisoners will be Australians Myuran Sukumaran and Andrew Chan — who married his long-term girlfriend Febyanti Herewila in prison on Monday.
Despite appearing almost certain to be killed within the next 24 hours, both this week received a court date of May 12 to hear an outstanding legal challenge.
Lawyers fighting to delay the death of Filipina Mary Jane Veloso, a domestic helper and mother-of-two, have said they've given up their bid after her second legal review was rejected on Monday. This came despite a last-minute personal appeal from Philippines President Benigno Aquino to Indonesian counterpart Joko Widodo.
Her lawyers claim she was the victim of human trafficking, and wasn't aware she was carrying drugs.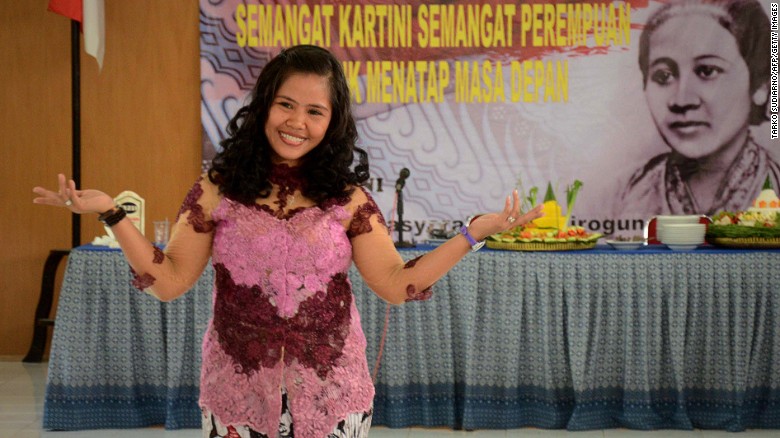 The others set for the firing squad are Brazilian Rodrigo Gularte, Nigerians Raheem Salami, Silvester Obiekwe Nwolise and Okwudil Oyatanze, and Martin Anderson from Ghana.
Frenchman Serge Atlaoui's execution has been delayed while a court considers a legal challenge. The only Indonesian on the condemned list is Zainal Abidin.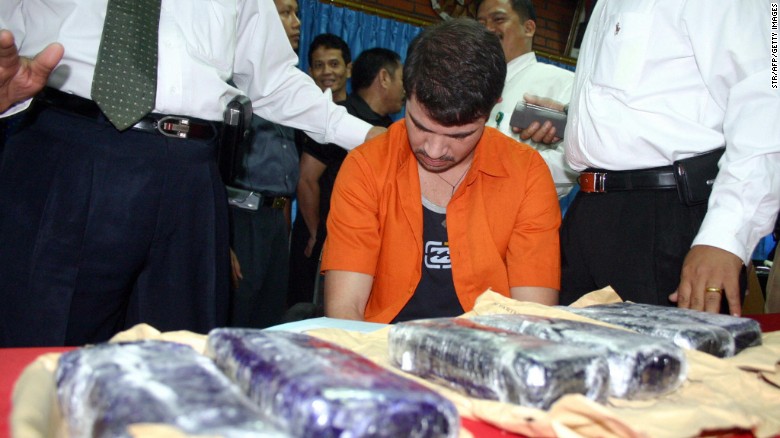 The final goodbye?
On Tuesday, the prisoners' families were heard wailing as they boarded a boat for what's expected to be their final goodbyes. Reporters at the port in Cilacap described harrowing scenes on Twitter.
"Myu's sister Brintha collapsed in screams. Helen Chan was supported by 2 women. Truly heartbreaking. #Bali9," wrote Nine News reporter Jayne Azzopardi.
On Saturday, the lawyer for Nigerian Raheem Salami said that authorities had told them that the last time to visit was 2 p.m. local time on Tuesday.
Over the weekend, the prisoners were given 72-hours' notice of their impending execution.
Images show individual crosses have been made, bearing the prisoners' names and the date April 29, 2015. Past executions suggest the shots will be fired in the early hours of Wednesday morning, after midnight.
Final hope fading
Friends are still hoping for a miracle.
It's just so wrong, on so many levels it's just so wrong," said Malinda Rutter, a documentary producer who grew to know Chan as a friend during the filming of an anti-drugs campaign "Dear Me."
"It was February when I went to say goodbye," Rutter said. "He was a bit stressed, but Andrew's a pretty remarkable person. It'll be dignified. I think the world has to embrace their mothers and their families."
Chan and Sukumaran were arrested in 2005 as part of the "Bali Nine" drug smuggling gang that intended to import eight kilograms of heroin from Bali to Australia. They failed.
Consecutive appeals have been rejected and earlier this year both men learned — like the other prisoners set to be executed — that their appeals to President Widodo had failed.
Indonesia fighting 'drugs crisis'
Widodo has insisted that Indonesia will not be swayed for appeals for clemency because the country is dealing with a "drugs crisis." He told CNN in January that clemency would not be extended to drug traffickers, leading to an appeal from Chan and Sukumaran that their cases hadn't been properly considered.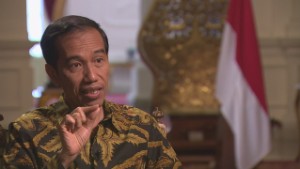 Indonesia President: 'No compromise' for drug executions.
Lawers for the two men say they've undergone radical rehabilitation during their 10 years in Kerobokan prison, and now offer support and services to others.
On Monday, the prisoners' brothers again appealed to Widodo for mercy.
"We please ask the president to use his powers and intervene and save their lives," said Chinthu Sukumaran.
"He's the only one who can stop it and it's not too late to do so. So I please ask the president, please show mercy," said Michael Chan.
A vigil was set to be held in Martin Place in Sydney on Tuesday night.
Australian Foreign Minister Julie Bishop said she had received a letter from her Indonesian counterpart on Monday that gave no indication the executions would be stopped.
Meanwhile, Australia's Attorney-General George Brandis on Tuesday issued a statement saying he'd again written to his opposite number in Indonesia — H.M. Prasetyo — to appeal for the executions to be halted.
"I drew to his attention that proceedings are still underway in both the Indonesian Constitutional Court and the Indonesian Judicial Commission that are relevant to Mr Chan and Mr Sukumaran," he wrote in the statement.
"These proceedings raise serious questions regarding the integrity of the two men's initial sentence and the clemency process. It is important that these actions are heard in full before any further steps are taken.
"Respectfully, the Australian Government calls on the President and Attorney General of Indonesia to stay the executions until the Constitutional Court and Judicial Commission proceedings are completed.
"It would be a terrible outcome if rulings or findings in either of these proceedings called into question executions which have already been implemented and are irrevocable."
Subscribe to Our VIP Newsletter