Following widespread protest over the killing of George Floyd by a Minneapolis policeman Derek Chauvin, Atlanta Mayor Keisha Lance Bottoms has urged President Trump to "stop talking" or, if he is going to speak, to be placed in front of a teleprompter because of his history of making matters "worse".
Bottoms, who has emerged as a key leadership figure following the death of George Floyd in Minneapolis on Monday, told NBC's Meet The Press on Sunday: "What I'd like to hear from [Trump] is leadership. I would like to hear genuine care and concern for our communities and where we are with race relations in America."
She also drew comparisons to the protests at Charlottesville, telling Chuck Todd "When he spoke on Charlottesville, he made matters worse," and then saying on CNN, "This is like Charlottesville all over again. He speaks and he makes it worse. There are times when you should just be quiet. And I wish that he would just be quiet."

Trump infamously described a deadly rally of white nationalists and counter-protesters as having "very fine people on both sides," following the clash in August 2017.
On Friday, Trump called protesters "thugs" and tweeted "when the looting starts, the shooting starts," prompting Twitter to flag the tweet as a violation of rules for glorifying violence.
On Saturday, Trump told reporters at the SpaceX launch that Floyd's death was a "grave tragedy" that has "filled Americans all over the country with horror, anger, and grief." At the same time, he claimed that Floyd's memory was being "dishonored" by "rioters, looters, and anarchists." He has also blamed radical left-wing activists for the clashes.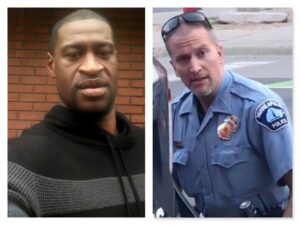 His comments came after he was blasted for inflaming tensions on Twitter and referring to protesters as "thugs" adding that he was ready to deploy the military to Minneapolis, the center of the protests, and where Floyd died on Monday.
Bottoms' leadership has come to the forefront as the 50-year-old former judge channeled her experience as a black mother to speak out on Floyd's death and subsequent protests.
She said on Friday: "I am a mother to four black children in America, one of whom is 18 years old. And when I saw the murder of George Floyd, I hurt like a mother would hurt…so, you're not going to out-concern me and out-care about where we are in America."
"I wear this each and every day, and I pray over my children, each and every day," she said.
A serious divide exists among Trump advisers over how to address nights of protests and riots in the US after Floyd's death.
Recall that in a video footage, Mr. Chauvin, 44, can be seen kneeling on Mr. Floyd's neck for several minutes on Monday. Mr. Floyd, 46, repeatedly says that he is unable to breathe before dying.