When Eleanor Roosevelt, late United States First lady and wife of iconic former U.S. President Franklin Roosevelt (FDR) penned her immortal words, not many knew it would resonate perfectly well with a budding Nigerian-born England's first black International –Benjamin Odeje.
"The future belongs to those who believe in the beauty of of their dreams", she declared. About twenty six-years after Eleanor Roosevelt uttered those historic words, they were to find resonance in the minds of then young Benjamin Odeje when he mounted the field at Wembley as the first black footballler to represent England at any international level.
That was precisely in 1971. The stadium was filled to capacity with about 70,000 fans at Wembley when the match flagged-off at precisely 2.45pm on that fateful day, March 6, 1971 between England and Northern Ireland.

The 22 boys in the tunnel of Wembley were also waiting anxiously to etch their names in historical records, and Nigeria's born Benjamin Odeje, who hails from the then old Mid-West Region, now Delta state, was among this youthful players on the England's side.
However,  young Ben Odeje, as he was fondly called among his peers, grew up in Deptford where he had made astonishing impact and impression on his coach, Roy Hodgson. That distinguished him, and earned him a spot on the field. According to accounts, Odeje's performance in the field of play was remarkably astonishing. He thus became England's very first black international!
However, he had to wait for about 42 years before he was officially recognized by England as the  first England's black international. For 42 years, he endured, finding faith and consolation in the memorable words of Eleanor Roosevelt that " the future belongs to those who believe in the beauty of their dreams."
But the realization of his dream did not come so easy. The path was strewn with tough challenges. But in 2013, something significant happened as the BBC finally came up with its investigations, uncovering a seeming inappropriate concealment that Benjamin Odeje was indeed the first black footballer to represent England at any international level.
In 2013, a campaign provoked Football Association analysis, a BBC News story and the immortal words which Odeje had waited for half a lifetime to hear finally came out from the BBC and England: "We've spoken to our historian… and we can confirm Benjamin Odeje was the first black player to represent England at any level."
That was the moment Odeje had long waited patiently for.  This is because not many knew then that this Nigerian-born Benjamin Odeje was the first black footballer to represent England at any international level because it had not been officially pronounced so. With that official pronouncement, his joy knew no bounds.
His mind might have momentarily flashed back  to that day when he (Odeje) was called up by England schoolboys, and consequently made his debut against Northern Ireland in front of 70,000 fans on 6th of March, 1971 at Wembley.
Donning his Three Lions blazers, Odeje helped England to a 1-0 victory in that game. He had five caps for England. He was nicknamed "Boy Pele" by the English press after a terrific 400 goals in three seasons at his school level then. He signed up for England's Charlton Athletic, whose manager, Theo Foley soon took to liking the young boy from Nigeria.
As expected, he made headlines. The UK's Daily Mirror described Odeje as "the first African to play for England."  Born in Nigeria before his parents moved to Charlton, England in search of greener pastures, Odeje hails from Orhoakpor, near Isiokolo in Ethiope East Local Government Area of  Delta Central Senatorial District of Delta State, Nigeria.
In an article written by UK's sports writer Daniel Storey published in Inews, the writer noted that "football trailblazers Ben Odeje's debut for England schoolboys in front of 70,000 fans at Wembley had largely been forgotten until recently (2013)."
He added: "There should be enough praise to go round. But if we are truly to atone for the abhorrent treatment of black sports people in this country, we owe it to them to tell their history completely. Odeje was a child superstar…An appropriate gesture to recognize his accomplishment is long over-due" as a trend-setter.
Truly, Benjamin Odeje had been forgotten in the history books, until the BBC uncovered  massive, impregnable  evidence that he was the first black player to represent England at any international level.
"In his place, Laurie Cunningham is often recognised as England's first black footballer at any level. But Cunningham, a West Bromwich Albion player appeared for the England Under 21s in 1977 six years after Odeje had debuted for England as the first black player," writes Daniel Storey in his revealing narratives which put the subject matter, and indeed Odeje's legacy and historical accomplishments in clear perspectives, thus helping to set the records straight.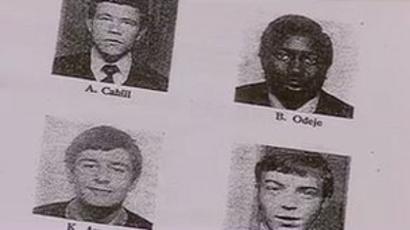 As a goal poacher, Odeje was said to have scored astonishing goals for South East London School, Blackheath District and London Schoolboys, where his coach, Roy Hodgson was full of praises and accolades for him.  Thus naturally, as a young, budding player then when his call-up letter arrived for his debut match at Wembley, its import did not immediately sink with him. But that did not diminish his spectacular performance on the field of play.
His performance was said to be superlative and exceptional. According to Storey "the next morning's Daily Mirror described him as "the first African to play for England". "Even when Ade Coker made his West Ham debut eight months later, Odeje was mentioned in a newspaper column which also held up Clyde Best as "the perfect combination of strength and negro grace", he added.
But one year later, things began to take a sudden, and unexpected dramatic turn for Odeje as fast as his stardom, thanks to those dark days of racism. Tragically, his name never made it to a first-team appearance for Charlton and he naturally failed to find a Football League in London, largely spending his career at London non-league clubs including Hendon, Dulwich Hamlet and Clapton among others.
Interestingly, the rest of 1971 was said to be pretty challenging for the young Nigerian-born England footballer not-withstanding the fact that he was described as "Man of the Match" at Wembley. Sadly, Odeje was immediately dropped by England schoolboys without explanation. But shockingly, after 25 years in the game, one of his coaches at that time resigned in rage and protest.
For about 40 years, Odeje's historic appearance at Wembley was thus relatively unknown to many British people and indeed many in the footballing or soccer world as it is best called in North America.
Cunningham who is said to be Odeje's personal friend, had curiously been officially recognized as England's first black International before the BBC investigations unveiled the truth, and lifted the veil off the seeming inappropriate facade.
And at last the truth prevailed: Nigerian- born Benjamin Odeje is officially England's first black International at any level.  Recall also that, Viv Anderson was reported to England's first black senior international in November 1978, seven years after Odeje's debut at Wembley.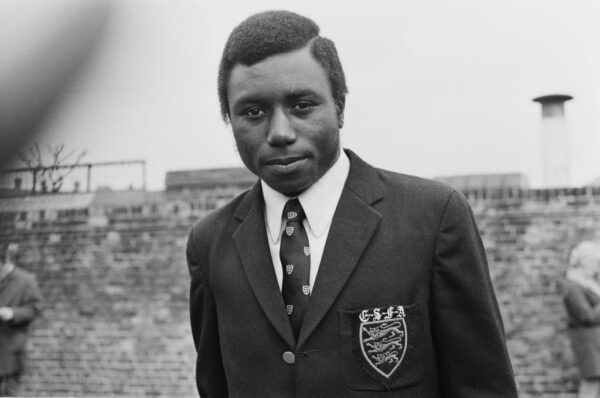 In his moving report, UK's sports writer, Daniel Storey narrates: "However, Odeje was forced to wait for his recognition. His children would be mocked and called liars at school, desperately proud of their father; Odeje himself would attempt to state his case but found only deaf ears. And then, in 2013, a campaign provoked Football Association analysis, a BBC News story and the immortal words Odeje had waited half a lifetime to hear: "We've spoken to our historian… and we can confirm Benjamin Odeje was the first black player to represent England at any level."
As one of the first Africans to appear in English elite league, Odeje reportedly faced racism in British society of then. "Bananas were regularly thrown at him, and he recalled in an interview being taunted with racial slurs by his own team-mates and managers if he made a mistake or under-performed. "The home games were OK," Odeje recalled in a 2016 interview, adding "but the away games were horrible."
In spite of the struggles, and challenges  in his professional football career, Odeje who is now 65 has undergone many coaching courses, and now successfully runs various soccer schools in North London. Impressively,  many hundreds of children aged between five and 13 have been coached by his team.
Odeje attended the University College of St. Mark and St. John (Plymouth) where he obtained a Bachelor of Arts degree in Recreation and Community Studies. He also has to his credit certifications in Football, Basketball coaching, Mountain and Moorland Leadership certificate (level 3 and 4), among others.
In his football career, he is recognized as  the first black footballer to play and be capped for England at any level (5 caps for England). He was also finalist in British College cup, and in 2013 won BEFFTA AWARD for his contributions to British football.
Note: It's now over 49 years since Ben Odeje became the first black to represent England in any international football match in March of 1971.