. As APC, Lyon Skyrocket, PDP, Diri Slump
. Survey Reveals: APC (55%), PDP(41%), Accord(1%)…
. Jonathan, Alaibe, Tompolo, Others Weigh In
By The New Diplomat Poll Tracking Team with field data collated from across Bayelsa State

With less than 28 days to the November 16 Bayelsa State Governorship election, the two leading political parties in the  polls, the All Progressives Congress(APC) and the Peoples Democratic Party(PDP) are cresting in a head-to-head  electoral war with existing political dynamics tipping the scales progressively in APC's favour  with a projected 55% votes triumph over PDP's estimated 41% votes. Going by the Independent National Electoral Commission (INEC)'s figures, 867,088 eligible voters are expected to cast their votes while a total of 33,874 registered voters haven't collected their PVCs as at today. Of these figures, the APC is favoured to win majority of both electoral votes, and popular votes.
Thus as the governorship campaigns enter into crucial stages, stretching both the APC and PDP to breaking point, findings from The New Diplomat Poll survey based on defined metrics show APC's governorship candidate, Chief  David Lyon  holding very firmly to Southern Ijaw,( with 165,449 registered voters and 164,844 with PVCs), Nembe (92,717 registered voters, and 89,866 with PVCs), and Brass (with 67,804 registered voters , and  65,900 already with their PVCs) while Ogbia( curiously former President  Goodluck Jonathan's LGA with 109.903 registered voters and 108,069 with PVCs  tilting more and more towards APC).  Most respondents said the November 16 governorship poll represents an epic battle between the APC being led by Minister of State for Petroleum and former Bayelsa State Governor, Chief Timipre Sylva and the PDP which is under the leadership of  Bayelsa  State Governor,  Hon  Henry Seriake Dickson .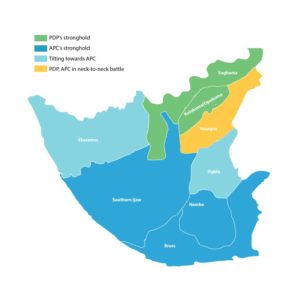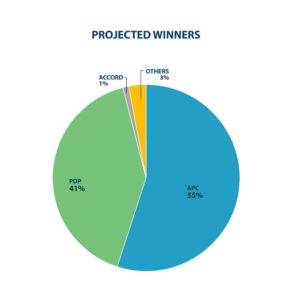 The PDP gubernatorial candidate, Senator Douye Diri, on the other hand, has consolidated his hold quite strongly in Sagbama ( with 109 registered voters, and 105,705 with their  PVCs), and Kolokuma|Opokuma( with 52,765 registered voters, and 50,477 with their PVCs).  Notwithstanding on-going acrimonious campaigns and fierce political war between the two leading front-runners, The New Diplomat's sampled field polls tracking revealed that nothing has changed  significantly to alter current expected voters  leaning.  In addition, a very significant key dynamics,  based on defined  sampled   metrics developed as methodology for administering respondents data, including  focus group discussions held in the 8 local governments across Bayelsa State, random sampling  of eligible voters  choice of candidates, and registered voters preferences  across the eight LGAs as well as administered questionnaires on INEC registered voters, showed  a key electoral factor or trend that would play a key role in determining who wins the November 16 polls.
A total of 4,000 questionnaires  were administered on registered voters, to sample their preferences across the eight local government councils in Bayelsa State. The distribution pattern was 500 per local government council. A noticeable key element  that also arose from our field findings indicate that whoever garner majority of the votes in  the four most densely populated  voters threshold will likely triumph landslide in the November 16 polls. The four critical LGAs in question with the highest voting strength are: Yenagoa(  with 199,895 registered voters, and 180,263 with PVCs collected), Southern Ijaw( with 165,449 registered voters, and 164,844 with PVCs collected), Ekeremor( with 125,189 registered voters, and 123,562 already with their PVCs) and Ogbia(with 109,903 registered voters, and 108,069 already collected their PVCs). The New Diplomat Poll Trackers gathered from sampled respondents that in the case of Yenagoa LGA, it's  a too-close-to call,  terrific race between APC and PDP candidates with their supporters lumbering bumper-to-bumper. The result is that both parties are projected to amass   48% (PDP) and 48% (APC), respectively in Yenagoa.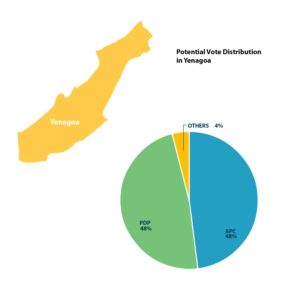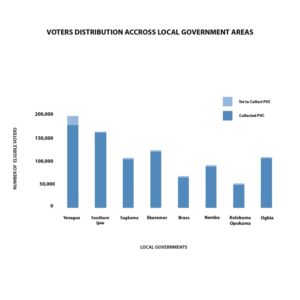 In Southern Ijaw, support for APC is skyrocketing consistently as it signifies a traditional fiefdom of the APC with its governorship candidate (Lyon) hailing from there.  Sampled respondents tipped the APC to win landslide in Southern Ijaw LGA with about 80% of projected votes while PDP's Senator Diri is likely to pull marginal votes. One respondent from Southern Ijaw actually  put the interplay of factors here lucidly: " Southern Ijaw is totally APC. I think the  Governor (Dickson) made a costly mistake of picking the running mate to Diri from his own Sagbama(Dickson's) LGA, without considering Southern Ijaw with high bloc votes. The PDP should have picked the deputy or running mate to Diri from Southern Ijaw to help mitigate the electoral error. But it's too late in the day. Attempts to pick or have the House of  Assembly Speaker from here does not help matters either. The number I citizen is  the most  powerful in our own local reckoning. We don't need Speaker. We in Southern Ijaw want the Governorship position. Pure and simple .  Let Dickson go with his Speakership position."
In Ekeremor, the two candidates (PDP's Diri and APC's Lyon) were running head-to-head until Rt Hon Peremobowei, Ebebi, a  two-time former Deputy Governor of Bayelsa State, two-time Speaker of the State House of Assembly,  Director- General of Chief Timi Alaibe's( Alaibe was Jonathan's preferred candidate and acknowledged best choice for PDP before Dickson allegedly engineered what many called crazy political gerrymandering) Campaign Organization, and foundation member of PDP  decamped  to the APC. Ebebi's movement dramatically upset the political balance in Ekeremor manifestly in favour of APC , as the PDP suffered a huge political sag. In fact, many respondents said PDP members interest in the party have ebbed dramatically in Ekeremor.  The former Deputy Governor's movement to APC is  regarded as a huge blow to PDP.  However, Ebebi who is regarded as a dynamic political wizard may have to square up with Senator Lokpobiri Heineken, a former Minister of State for Agriculture, should the later decide to undermine his own APC in Ekeremor. Heineken is said to have  fallen  out of favour with his political godfather on account of alleged disloyalty.
In Ogbia,  (with 109,903 registered voters, and 108,069 with PVCs), the estimated voting population are tilting towards APC, a situation that has seen  APC's Lyon  in a soaring statistical lead over PDP's Diri. Results from The New Diplomat's Poll Tracker show a sudden surge of potential voters leaning towards APC after the rancorous PDP primaries that saw Governor Dickson's preferred governorship candidate emerging.   The consequence of that is that key allies of the former President shifted their support to APC. Our findings couldn't scientifically verify the political "deal" that may have informed the dramatic shift, but some respondents openly attribute it to the humiliation  former President Jonathan received from Governor Dickson. " The Jonathans  told Dickson to let Alaibe pick the ticket. Wike told Secondus,  give the ticket to Alaibe but the PDP leadership went overboard. That is why Wike is mad with Secondus, whom he put in Office. He has vowed to punish Secondus. And Dickson picked both the Governorship Candidate and his running mate single-handedly. So the PDP people themselves have decided openly, in revolt to vote against Dickson's candidate to teach him a political lesson of his life. The November 16 election is a battle between the Bayelsa State people, the Ijaws Vs Dickson. The Ijaws are irked that one single man cannot determine the destiny of whole Ijaw nation. That is one of the underlying intrigues going on… Dickson is plotting to go to Senate hence he picked the Deputy, against all wise calculations, from Sagbama…So you see Jonathan's key allies dumping PDP. Even Tompolo whose reach stretch to Bayelsa from Delta is not with Dickson.  He is backing Lyon. And  as you can see, many appointees of the  government  are resigning en-masse".
Truly, the Dickson's government has been hit by mass resignation of key figures that are very central to the politics of Bayelsa State. This has expectedly created apprehension in the PDP and dampened the Governor's enthusiasm as well. Another respondent sampled simply  said  though  like the PDP, the APC wasn't immune to internal strife but the difference was that the APC maintained a matured leadership style.  He said: " PDP allowed its crisis to blow over the roof. The APC managed its own problems in a strategic way…"
Strikingly, the  outcome of   analytical data  and sampled field survey findings from the 8 local government areas of Bayelsa state show that  though both APC and PDP are neck-to-neck in Yenagoa LGA,  the APC is coasting home with  solid statistical consolidation in Southern Ijaw, (Lyon) Brass(Sylva), Nembe(Amange) while Ogbia(Jonathans), and Ekeremor(Ebebi) are leaning progressively toward  the APC. In contrast, the PDP is holding firmly only to Sagbama(Dickson), Kolokuma|Opokuma (Diri), and trudging to make impressive gains in Yenagoa. The New Diplomat survey projects that if the election  were held today, the APC governorship candidate, Chief Lyon  will sweep with massive skyrocketing votes in three LGAs, lead marginally in two, and have a statistical tie in one while the PDP candidate, Senator Diri will win overwhelmingly in two LGAs  and tie in one, Yenagao.
In total, The New Diplomat survey which was conducted between September 17 to October 17 which saw registered voters randomly sampled across the eight local government areas of Bayelsa State, show 55%  saying emphatically they would vote APC while 41%  respondents said they would rather vote PDP,  1% maintain they prefer Accord Party,  2% insist they haven't made up their mind,  and 1% opted to be  completely indifferent.  The number of registered voters used in this survey, including those that have collected their PVCs, and those yet to collect their PVCs are based on INEC's figures as announced by the electoral body.
The results from The New Diplomat's survey  which put the APC's candidate(Lyon) revving up triumphantly ahead with 55% , PDP's candidate (Diri) 41%,  and Accord Party's candidate (Diriyai ) 1 %, show the  following  projected  electoral  dynamics :
LGAs Sampled Projected Winner(s)
Yenagoa (PDP, APC in neck-to-neck battle)
Southern Ijaw (APC's overwhelming domain)
Sagbama (PDP's strong undiluted base)
Ekeremor ( Leaning graphically towards APC)
Brass (APC's imperial chiefdom)
6. Nembe ( APC's stronghold)
7. Kolokuma|Opokuma (PDP's home base)
Ogbia (Tilting dramatically towards APC)
Thus the political picture is increasingly getting clearer as the APC's support skyrocket graphically with a projected 55% majority lead   over PDP's 41% just as both parties hold strongly to their traditional turfs in the build up to November 16. The New Diplomat projections based on field data and poll survey across the eight Local government councils in Bayelsa State point to a triumph for APC  with 55%  majority votes with estimated increase in  per cent  digits over PDP on account of political dynamics which have suddenly tipped the scales heavily in APC's favour. The PDP on its part is maintaining its strong majority lead in two local councils–Sagbama and Kolokuma|Opokuma-while trudging to make significant showing in Yenagoa.  The PDP, based on The New Diplomat's field data, is projected to come second with 41% votes as it has suffered huge political distress in recent times, while Accord Party is estimated to emerge a  distant third with a very marginal 1%  projected votes.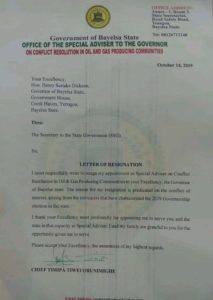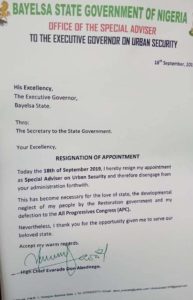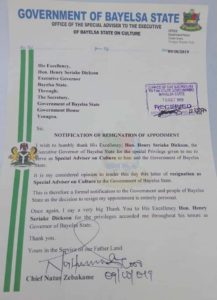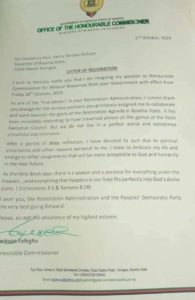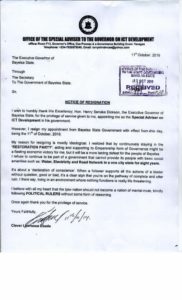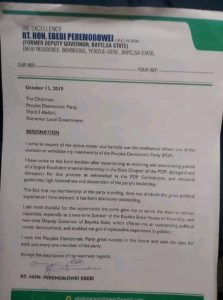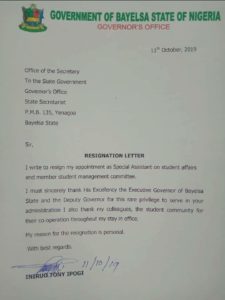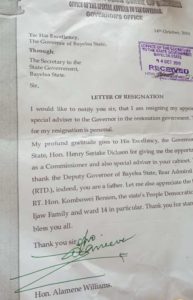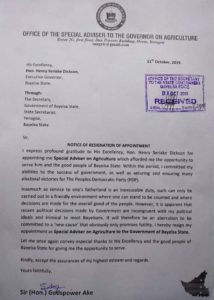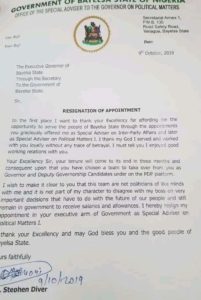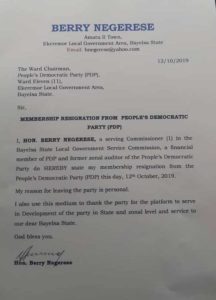 +NB:  The New Diplomat Inc's  Poll Tracking  team aggregated all field data from across all the eight LGAs in Bayelsa State, and officially  released polling data by  INEC, including number of registered voters,  expected voters with PVCs,  population figures by both NPC and NBS, voting strength of various LGAs, etc. Our Poll Tracking Team then developed a Hybrid Poll tracking methodology that combined different survey methods to arrive at our verdict. The Hybrid approach included sampled respondents, focus groups interviews, coding, field questionnaires, telephone interviews, reputation audit, etc., conducted between September 17 to  October 17 , 2019.
Subscribe to Our VIP Newsletter